Bin Laden family 'on Blackbushe Airport crash plane'
Family members of Osama Bin Laden were on board a plane which crashed in Hampshire, the Saudi Arabian embassy in the UK has said.
The private jet crashed near Blackbushe Airport, Yateley, on Friday.
In
a statement
on Twitter, the Saudi ambassador to the UK, Prince Mohammed bin Nawaf Al Saud, offered condolences to the Bin Laden family.
The embassy said it was working with the British authorities to investigate the incident.
The statement said: "His Royal Highness Prince Mohammed bin Nawaf Al Saud… has paid his condolences to the family and relatives of Mohammed bin Laden at Blackbushe airport in Britain for the great loss they have suffered as a result of the crash of the plane that was carrying the family."
The embassy added that it was working with the British authorities to ensure the speedy handover of the bodies for funerals and burials in Saudi Arabia.
The plane – an Embraer Phenom 300 – is reported to have belonged to an aviation firm owned by the Saudi-based family of the former al-Qaeda leader.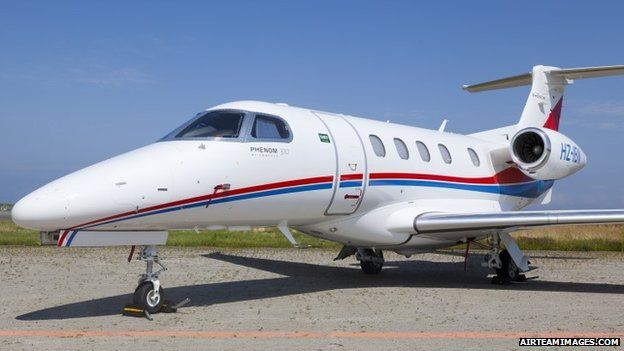 This Embraer Phenom 300 took off from Milan at 13:20 BST before crashing in Hampshire
The plane, which was arriving from Milan, Italy, crashed into a British Car Auctions site at the airfield shortly after 15:00 BST, exploding on impact.
Its pilot and all three passengers were killed but no-one on the ground was injured, Hampshire Constabulary said.
In a statement, Blackbushe Airport said the jet had crashed near the end of the runway while attempting to make a landing.